Richard Dobrow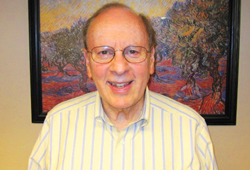 Richard Dobrow has always enjoyed strong Jewish roots, going back to his formative years in Akron, Ohio. After college, medical school and military service, he came to Portland where he was introduced to Karensue Sholkoft at Temple Beth Israel. Karensue came from a family with a deep history in Jewish Portland and this became a wonderful backdrop for their family life. Dick and Karensue were married at her home by Rabbi Emanuel Rose. They raised their two daughters, Shoshana and Rachel at Temple, too. Sadly, Dick lost Karensue in 1998.

Interwoven in the Dobrow family life were the themes of music, education and Judaism. Today, family members are all accomplished musicians in addition to their demanding professional careers. Dick is a retired physician in the field of hematology-oncology, and most recently worked at the Veterans Administration Hospital. He is an accomplished pianist and has played with both the Vancouver Symphony and the Jewish Community Center Orchestra. Dick has served as president of Jewish Family & Child Service, on the board of Jewish Federation of Greater Portland and as a board member of the Portland Youth Philharmonic. He is also a former president of the Harvard Club of Oregon, and coordinates interviews for Harvard applicants. The Dobrows always supported Jewish life through gifts to the Jewish Federation of Greater Portland, Temple Beth Israel and the Hillels of Harvard and University of Washington.

Dick first became acquainted with the Oregon Jewish Community Foundation when one of the OJCYF (Youth Foundation) members, Blake Morell, called on him to talk about OJCYF. "Blake told me about how the OJCYF teens raise funds and make grants," explained Dick. "That sparked my interest in the Foundation and how it serves our community, from the Youth Foundation to member agencies and donors, too." OJCYF inspired Dick to make a generous gift to OJCF's Community Endowment Fund. The Community Endowment Fund helps secure a strong future for our community and provides attractive tax savings, too. "I'm glad to support the Community Endowment Fund, it's so important to have these funds grow for future generations."