Henry & Nancy Oseran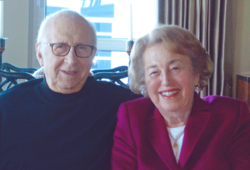 Nancy Oseran and her husband, Henry z"l, shared many rich experiences during their long marriage. They raised a son, Dan, and daughter, Laurie, and have four grandchildren. Both are from the Northwest: Nancy is a native of Portland and Henry was from Seattle. They met when they were just 17 years old at the University of Washington.

Nancy cherishes being part of Jewish life in Portland. Her connections are deep and her active engagement in the community through Congregation Beth Israel, Jewish Federation of Greater Portland and through their philanthropic fund at the Oregon Jewish Community Foundation have made a lasting difference.

"I was born into Jewish life and it's been a joy to have the kind of strong relationship I had as a girl and in my family. I just grew up into doing more," comments Nancy. "My parents were very committed to Zionism and my mother was president of Hadassah. She was also involved in the then Jewish Welfare Federation, chairing the Women's division." Nancy remembers attending religious school at Beth Israel and has served on the Sisterhood board and the congregation board as well, among her many volunteer roles. Through the years, Henry was at her side and also enjoyed their involvement in the community.

Henry and Nancy shared the quiet joy of giving generously to help others in need and to strengthen our Jewish community for future generations. Their expressions of philanthropy are sure to inspire others to do the same.