Jennifer & Ken Zeidman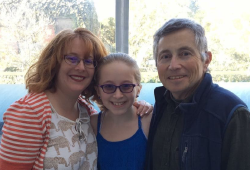 Both Jen and Ken Zeidman grew up in philanthropic homes with parents who always found the time to volunteer and support the Jewish organizations important to them. Ken, a native of Portland, learned this from his grandparents, Nathan and Annie Director, as well. "Having grown up in Portland, I consider the Jewish community to be my family," shares Ken. "Maybe that is because I am related to so many Jews here! Seriously though, our community is very special."
When Jen, a native Californian, moved to Portland twenty years ago she didn't have ties to anyone and soon the Jewish community became her home. Over the years, the Zeidman family has formed bonds with many local Jewish organizations. "My grandmother lived at Cedar Sinai Park before she passed away. Our daughter, Ruthie, has been attending PJA since Kindergarten, she calls BB Camp her second home and she will become a Bat Mitzvah at Congregation Beth Israel this summer. The MJCC is a place for us to visit with friends and attend events and I support those in need through my board service at Jewish Family & Child Service," reflects Jen.
Both Ken and Jen feel that leaving a legacy gift through LIFE & LEGACY is a way to say thank you to organizations that have touched their lives after they are gone. "With our legacy gift, we hope to ensure there is a strong, vibrant, supportive Jewish community for generations to come," shares Jen. Ken adds, "We will continue the legacy our parents and grandparents started and teach Ruthie what it means to care for the community."