Elizabeth & Ruben Menashe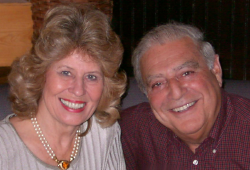 Elizabeth and Ruben Menashe are true believers in the importance of legacy giving and they made their commitment to support the future of our Jewish community years ago. Therefore having Liz serve on OJCF's LIFE & LEGACY Leadership Council was an asset not only to the program but to the greater community as well.
"LIFE & LEGACY revived our community's dormant discussion about legacy giving," shares Liz. "Knowing that we were part of a national movement and receiving the training, support and incentive grants from OJCF and the Harold Grinspoon Foundation was the impetus that Portland's Jewish community needed."
Both Liz and Ruben feel that there is a satisfying completeness to making a legacy gift that is very rewarding. "Its everlasting quality helps to instill a peace of mind and a confidence in the future that is very gratifying," says Ruben. "The necessary annual gift is an immediate short-term response to needs in our community that doesn't invoke the same intensity of gratification as a legacy gift," adds Liz.
The Menashes encourage everyone, regardless of age, to commit to making a legacy gift to help secure a strong future for Jewish Portland. "We can build a strong Jewish community in perpetuity by increasing the endowment funds of all our organizations."